Roma Tomatoes are Now on the Harvesting List Along with Corn
Last updated on
I have just started harvesting a few Romas here and there, but no significantly large harvest just yet. I think within the next couple of weeks I should begin picking many of them at one time and get started on making some delicious sauces out of them.
I think I have picked some of the early fruit that turned red, but all the others on many of the plants are not quite ready for harvesting. Soon they will all begin to turn red with just a few days of good sunshine over the next couple of weeks.
I did pick a couple of them today, but still I don't have many to do anything about them. I will just have to wait until I get many more of them.
On the other hand my cherry tomatoes and steakhouse tomatoes are ripening quite fast with still many green ones on the plants. I think I have been picking my cherries every other day or sometimes more per week.
My steakhouse tomatoes are actually turning red faster than my Roma ones at the moment, but I am sure that will change in the very near future. I collected two more of them and with many more on the plants I will have to start eating them quite often.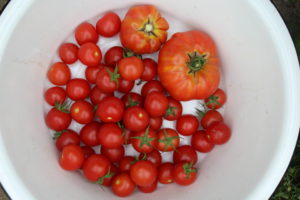 Some more cucumbers were in the mix today as well. It has been some time since I picked a regular cucumber and today I happened to get three of them. I also did get two more pickle cucumbers which can be used for pickling them very soon before I have no more room in the refrigerator for them.
Three peppers and a zucchini were picked this afternoon and this will make for a successful harvest overall. This is the second phase of my zucchini plants and I hope to get a few more of them before they are done for the season.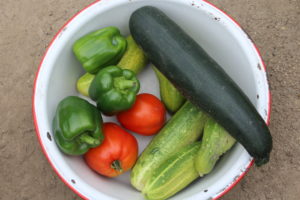 A good a decent harvest of corn was harvested yesterday too. I was able to pick about 15 of them and with about a dozen plants left I think this year has been somewhat good.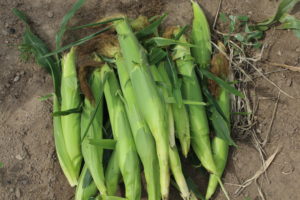 Beans were also picked yesterday and got probably the most for the season. I don't think I have enough beans on the vines to pick the same amount I did yesterday, but you never know. Flowers and buds are still producing so I might get even more beans on the next harvest.